Pensonic's RM50 million new Head Office, known as Innovation and Global Operations Centre, officiated on the 30 October 2015 by the Chief Minister Of Penang Yang Amat Berhormat Lim Guan Eng, will support our mission to be in the forefront of electrical appliances market. This new Head Office is also a proud symbol of Pensonic's accomplishments and the realisation of our dreams, based on our corporate values of Caring, Enjoyment, Trustworthy, Innovation and Leadership. It is a testament that ingenuity and perseverance will always prevail and ensure a company's long term sustainability.

Aligning with part of the EPP requirement that includes a significant Product R&D element, our New Head Office here in Bukit Minyak, Penang built on six (6) acres of land with more than RM50 million investment, features multi-use spaces with facilities and infrastructure that will be progressively well equipped with R&D Laboratories, and ample open spaces to encourage learning and collaboration both within the Group and with external bodies. It is also the centre where business strategies and innovations are planned and executed. This new Head Office houses an auditorium with excellent acoustics, a showroom and demonstration room where visitors can experience our appliances in a casual ambience, as well as employee dedicated areas such as a gymnasium, cafeteria and a recreation room for employees to relax and unwind.
The grand opening of this new Head Office also commemorates the triple milestones of 50th Golden Anniversary of Pensonic Mother Company KEAT RADIO, 33rd Anniversary of the Pensonic Brand and 10th Anniversary of Pensonic Friends. This celebration serves as a reminder of how far Pensonic has come and as an inspiration to keep moving forward. Another honour we have received just before this grand opening is the recognition bestowed upon Pensonic's founder, Y.Bhg Dato' Seri Chew Weng Khak. Dato' Seri Chew was honoured as the first recipient of the '2015 Putra Brand Personality of the Year Award'. This prestigious award was presented to Y.Bhg Dato' Seri Chew by Putra Brand Awards in recognition of building a local, innovative and affordably priced brand that has penetrated international market.

Since Pensonic was founded, we have always been committed to producing ever better products and services to make our consumers happy and their lives easier. Pensonic prides itself of having achieved many firsts in the local industry as the leading domestic Electrical Home Appliances Manufacturer. We have been focusing on building our internal capabilities for the past few years and are prepared to emerge stronger with every challenge.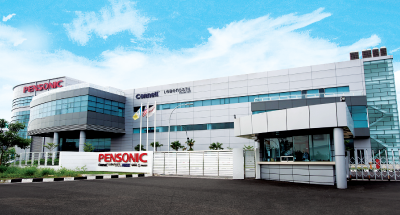 This Innovation and Global Operations Centre, supported by industry experts and designers, will further enhance our delivery of creative, lifestyle inspired products that will create a strong brand image and penetrate targeted segments of the global market. We are certain our commitment for perpetual progress, ability to optimise opportunities and unlocking potential will ensure sustainable, long term growth for both Pensonic and our beloved nation.